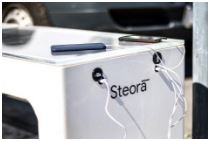 The Steora Solar Smart Bench presented by the Fibrex Group has been chosen as a finalist in the Old Dominion University's Lions's Lair Innovation Competition! Sponsored by the Strome Entreprenerial Center at ODU, this competition is seeking to find the most innovative and exciting ideas to social, cultural, or environmental problems. The panel of judges narrowed the select finalists down from a large group of applicants. Product pitches will take place on Friday, November 4, 2016 in ODU's Webb Center in front of a panel of independent professionals involved in entrepreneurship.
The Steora Smart Bench unique design provides self-sustaining green solar energy to power a large suite of applications such as cell phone charging, WiFi Hot Spot Internet Connection, area LED lighting, sensor data gathering capabilities and temperature control. Yes, it even has a built-in cooling fan system to keep the seating area below 80⁰F on hot days!
Because mobile technology is such an essential aspect of modern life, properties want to support and attract the mobile generation by providing more charging device options than ever before. Make your public spaces smarter and greener with the Steora Smart Bench.
The Fibrex Group is excited to present the Steora Solar Smart Bench to a panel of experts next week. Stay tuned for final results!