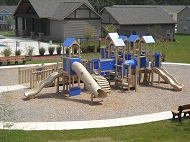 At many military installations around the United States there has been an initiative to improve the quality of life as well as moral. Therefore, not only have new homes been built, but true communities have been established on these installations. One such example exists at Fort Polk, Louisiana. A company called Picerne was awarded a privatization contract for Fort Polk . They set out to create a community that would greatly enhance the quality of life for soldiers and their families. This emphasis started with a focus on building and refurbishing quality homes but went beyond a home, a street, or just one neighborhood. The company sought to bring about a sense of community at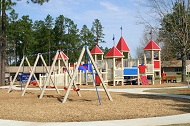 Fort Polk with play.

Upon reviewing the military installation, site managers discovered more than 150 play structures scattered throughout the neighborhoods there. The items ranged from tetherball posts to swing sets. Most of the items were outdated and in disrepair, which presented a safety concern. The company knew it could make an immediate impact on the quality of life for families by creating recreation destinations that offered something for everyone in the family,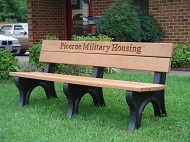 swings, age-appropriate play structures, basketball and tennis courts, picnic areas, and benches.

With a green outlook in mind for the improvements, they began to search for an environmentally conscious playground company to help carry out their plan. The company decided to enlist Play Mart, a playground manufacturer that extrudes its own proprietary Recycled Structural Plastic (RSP). This sustainable product is made primarily from recycled milk jugs. The company's average play set contains nearly 25,000 milk jugs, and it diverts over I million pounds of plastic from landfills annually.

Now, Play Mart has designed and installed environmentally friendly playgrounds at over a dozen neighborhoods in Fort Polk. The recreation area is a gathering spot for many residents, not just children. They bring a sense of community to the neighborhoods as families come together to watch their children play. Several parents meet for regular play dates at the parks, and family child care providers take the children on outings to the recreation areas.

Early projects at Fort Polk included the placement of 240 recycled plastic lumber benches at newly refurbished bus stops. These benches contain more than 300 post-consumer milk jugs. In addition to complete playground structures, high-quality, low maintenance recycled plastic lumber products have been used to create picnic tables and waste receptacles. All items consist of up to 100 percent recycled plastic lumber.

Ruben Leenders is the national account manager for Play Mart. The Fibrex Group is the exclusive Mid-Atlantic distributor for Play Mart Inc. We offer full service design & installation of sustainable play equipment, surfacing and borders. We also manufacture and distribute recycled plastic lumber benches, picnic tables, recycling containers and trash receptacles.

Picerne has revitalized other Military Housing installations using Play Mart playgrounds as well, such as Fort Riley, Fort Meade, Fort Rucker, Fort Bragg and Aberdeen Proving Grounds.

Please click "From milk jugs to swing sets" to read the full article.