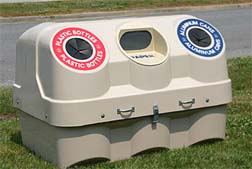 Much of the nation has been experiencing a heat wave this summer. This has been creating rise in activity at hotels and motels in resort areas as well as for the surrounding local businesses. Where there are crowds it is always challenging to provide enough waste receptacles and recycling bins for all, and it is even more challenging to find recycling containers that are attractive.

Every business and community needs a recycling program in place. However, for those businesses and communities that rely on tourism, it is even more important. As resort areas and hotels see an upturn in business, it becomes more challenging to maintain the public areas, the beautiful vistas and scenic views. Make it easier on your employees and staff by providing accessible recycling containers and waste disposal for your guests.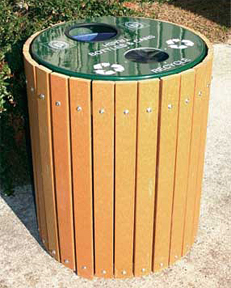 Guests don't notice when the beach and surrounds are pristine, but they do notice when they are not. When a business, resort or hotel counts on seasonal tourism, it is imperative that the public spaces are clean.

Aside from the economic benefits to recycling, there are other benefits too. Seasonal resort destinations have fragile ecosystems. Tourism has become a primary source of revenue for many businesses in these locations.

Businesses affected by tourism are volatile, as well as competitive; these types of businesses compete on a national, if not global, scale. It is imperative to set yourself apart from the competition.

The Profile 6 and Envirodesign recycling containers are perfect for resort communities, hotels, and businesses that rely on tourism. These recycling containers help businesses keep areas clean by providing access to recycling for visitors.

The Profile and Envirodesign lines of recycling containers are very attractive and easy to use. The Profile product line is made from quality fiberglass with a high gloss finish. The Envirodesign units are manufactured with recycled plastic lumber slats and a fiberglass lid in custom colors for easy identification. Both of these types of receptacles require little maintenance and will perform beautifully year after year in many locales. A wide variety of standard colors, custom shades and options are available for your needs.

For information on the Profile and Envirodesign lines of recycling receptacles contact The Fibrex Group.