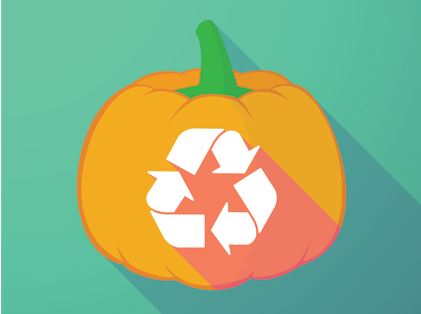 This Halloween skip the disposable plastic decorations and heavily packaged (and unhealthy) candy. Celebrating Halloween can be more fun, cheaper, and healthier for you and the environment if you follow these simple tips for a green Halloween. They'll save you money, too.
1. Re-use costumes. Tap into the treasures hidden in your closet or attic to pull together a fun, no-cost costume (it won't take any longer than going to the mall, and will be a lot cheaper). Trade costumes with friends and family if you don't want to wear last year's get-up. Shop for accessories at yard sales or resale stores. Use your imagination but don't obsess. The point is to have fun, not be fashionable!
2. Trick and treat. In lieu of junk food, hand out pencils made from recycled paper, erasers, nickels or dimes – be creative!. My husband used to live in the same neighborhood as baseball legend Casey Stengel – he gave out silver dollars. My neighbor started doling out small cups of apple cider when she realized how much kids love a drink when they're running around like banshees. NatureMoms offers lots of great links to organic lollipops and other fun and healthy treats.
3. Reverse trick and treating. Global Exchange and other charities encourage kids to help educate adults about Fair Trade cocoa by handing Fair Trade chocolates back as they trick or treat. The chocolates are attached to a card explaining why Fair Trade offers an alternative to child labor, low wages for farmers and a healthier environment.
4. Have a party. If you opt to celebrate at home in lieu of trick or treating, put out bowls of snacks rather than serve up individual throwaway treat bags. Offer popcorn, hummus and pita chips, carrots and dips, fresh apple cider, bat-shaped cookies and muffins. Kids will enjoy painting pumpkins, decorating cupcakes, reading scary stories, bobbing for apples, and going on "flashlight hunts" in the yard (if the party's after dark) for hidden Halloween surprises. Send electronic invitations to avoid wasting paper and postage.
5. Decorate with Nature. A trip to your yard or the farmers market will provide everything you need to dress up your house for Halloween: leaves and branches, hay bales, gourds, pumpkins, mums, dried flowers.
6. Light up the night. If you string lights (especially to keep walkways safe for kids), use strands of LEDs, which you can get at any hardware store these days. They use much less energy than conventional holiday twinklers. Illuminate carved pumpkins with candles from beeswax or soy . Decorate windows and glass door panes with washable crayons or chalk. If kids need flashlights to get around in the dark, try one of the many flashlights that can be recharged with solar energy.
7. Turn it over to the kids. Forget the store-bought hanging witches and skeletons. Have your kids make hand print spiders for the walls and windows. Recycle egg cartons into bats. Carve and paint pumpkins.
8. Try a new bag. The best option for candy collectors is last year's bag; a pillowcase; or a reusable shopping bag with handles.
9. Save for next year. When Halloween is over, pack up costumes, treat bags, lights, and decorations in one big box or bag. Store everything in an easy-to-find place so next year, you don't have to start completely from scratch.
10. Get even more ideas. Between Green Halloween and the Green Moms Carnival, you'll find everything you need to know to make your spooky night as eco as possible.
*Original posted by: http://www.biggreenpurse.com/top-ten-eco-tips/top-ten-green-cheap-halloween/