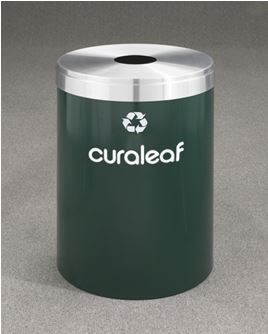 The Fibrex Group is pleased to provide our custom RecyclePro 1 recycling receptacles to Curaleaf for their collection of prescription medicine bottles. Curaleaf's mission is to produce pharmaceutical grade, standardized dose medical cannabis for use by an educated medical and patient community to improve health, well-being and quality of life. They are one of only four cannabis producers licensed by the CT Department of Consumer Protection at this time. The collected bottles will be recycled for use by other @curaleaf patients in their dispensary.
RecyclePro Recycling Receptacles have covers and bodies that are silk screened with clear messages and logos that look professional and last indefinitely. We allow you to choose the message/logo you want for each opening of our recycling receptacles. Custom messages and corporate logos are easily prepared to customize your RecyclePro Recycling Receptacles for a minimal set-up fee. Value series units do not come with interior liners.
Available in three different sizes, these smartly designed recycling receptacles are already a favorite of commercial designers and purchasing agents across the country. Make RecyclePro Recycling Receptacles your preferred collection choice. Contact the Fibrex Group or call 1.800.346.4458 to find out how we can help you!