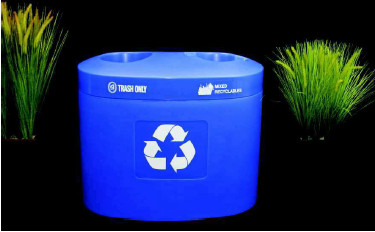 The new stylish Mobius Flex is not only very attractive, but also extremely durable and user friendly. This recycling container is perfect for schools, universities, airports, military installations & facilities, malls, apartments & condominiums, hotels, convention centers and office buildings. High-end look at an affordable price.
The Mobius Flex is an exclusive Fibrex Recycling Container product which was designed and manufactured by our team of experts. We can offer you the most competitive factory direct pricing, custom designs and excellent customer service. With the look of an expensive designer receptacle, the Mobius FlexTM looks attractive, is very durable and is priced at $695 retail - much lower than those upscale products! And much more budget friendly for your organization!!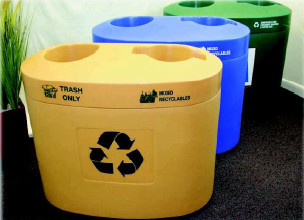 The Mobius Flex and all Fibrex Mobius Recycling Containers always contain the maximum amount of recycled content and are in use in over 3,000 communities, parks, educational facilities, corporate offices, military bases, retail establishments, multi-family housing, and the hospitality industry all over the United States and Canada.
Call us today at 1-800-346-4458 for more information or visit us on the web.