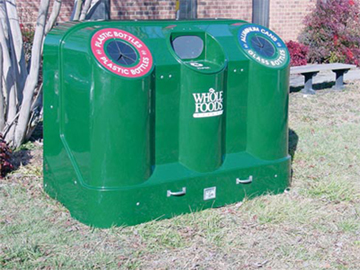 Even though recycling efforts have improved, municipalities and parks still face mounds of jettisoned drink containers. City Managers across the country continue to promote and invest in recycling. In New York City alone, in the recent past, almost 150,000 new recycling bins have incorporated as either permanent resources within New York's public space or reused at city managed events. But more needs to be done.

The Mayor of New York is engaged upon a campaign to double recycling in the city by 2017. It is estimated that only about 15% of New York's total waste is being recycled. The New York Department of Sanitation says 182 tons of glass bottles and jars go into the trash every day.

According to the Container Recycling Institute, an anti-waste organization that tracks data on the topic, Americans used 38.6 billion glass beverage containers and 71.9 billion plastic beverage bottles in 2010. The Environmental Protection Agency estimates that only about 33% of glass bottles, and as few as 27% of plastic bottles, are recycled. City managers across the country want to do something in a big, visible way.

Despite higher emphasis on recycling and more Americans taking part, recycling rates remain low, so aggressive city managers constantly search for fun and engaging ways to motivate change. One of the most effective tools is the voice of local business owners who improved both their business reputation and brand via the use of custom labeled recycling bins and recycling containers. American consumers remain loyal to environmentally friendly business.

For information regarding the use of custom recycling bins to promote your company's brand or your cities "green image", and to increase customer loyalty, contact the The Fibrex Group, America's first choice for custom branded recycling equipment.