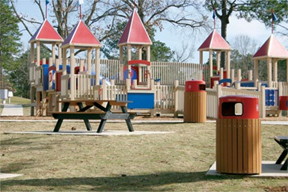 Summer is the perfect time for schools to take advantage of empty playgrounds. If your school or municipal playground is in need of new playground equipment, take a look at our recycled lumber playground equipment and park furnishings by Play Mart. Across the nation, many of the pressure treated wood playgrounds are coming down to be replaced, with safer, more durable and reliable material.

Why are Play Mart playgrounds the perfect solution for schools and city parks? Because they are made from recycled lumber. This playground equipment is made from recycled plastic milk jugs and it is entirely maintenance free. Play Mart recycled plastic playground equipment never requires sealing or painting and will not rot, crack or splinter. The Fibrex Group has wide selection of recycled plastic lumber playground equipment and park benches.

With the focus in the classroom on reducing, reusing and recycling and decreasing our carbon footprints, this playground equipment, manufactured with 100% recycled plastic milk jugs can aid in discussion points as a part of the children's lesson plans. Play Mart Playgrounds will also enhance your school and develop healthier and more active children. Contact the Fibrex Group to find out more about recycled lumber playground equipment and park benches.