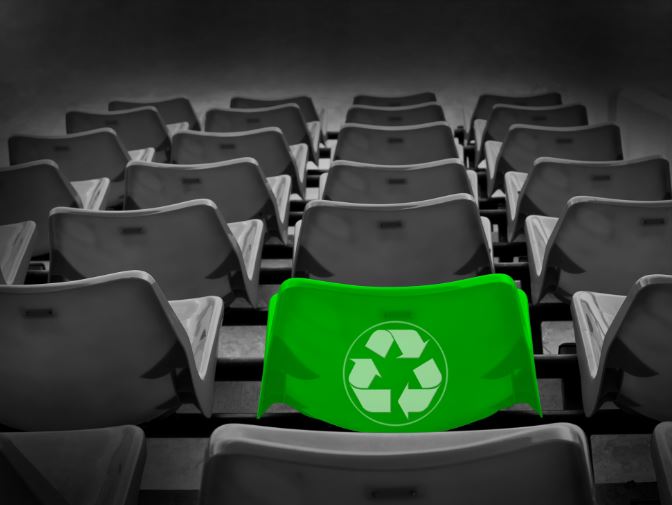 The Sacramento Kings announced Thursday that the new $557 million Golden 1 Center is now the world's first LEED Platinum-certified indoor sports venue, as well as the first professional sports facility powered entirely by solar energy, according to the Sacramento Bee.
The arena features reused construction materials from the site's former structures, 36% recycled material, 90% locally sourced food and drinks for concessions, and recycled athletic shoes for court surfaces.
The Golden 1 Center's first scheduled events are two Paul McCartney concerts in October, but the main arena and practice facility will not be 100% complete until 2017.
LEED Platinum-certified projects must earn United States Green Building Council (USGBC) points in energy management, water efficiency, environmental quality, transportation and materials. The AECOM-designed Golden 1 Center earned the highest points total for any sports venue in the world, therefore putting it into the category of the top 3% of all certified buildings.
According to the Golden 1 Center, developers conducted a 13-month environmental study of the arena site and determined that choosing the downtown location would shorten travel times to events, thereby cutting air emissions by 24% and reducing travel-related greenhouse gas emissions per attendee by 36% by 2020. Arena officials estimate that the facility's site location choice will keep nearly 2,000 tons of annual greenhouse gas emissions out of the atmosphere.
The USGBC said that green sports venues teach fans and visitors about green building and drum up support for sustainability efforts. There have been an increasing number of LEED-certified sports facilities — now at least 30 — as teams and owners realize the environmental and economic benefits, according to the organization. Currently, the University of North Texas is chasing LEED Platinum status, as is the Atlanta Falcons organization for its new $1.5 billion Mercedes Benz stadium. The USGBC said the Falcons will have the first LEED Platinum NFL stadium ever once it's complete.
The Kings arena ended up costing approximately $80 million more than originally estimated, which the owners attributed to design changes and the addition of a $30 million practice facility. General contractor Turner Construction drew attention to the project last year through its use of weekly drone flights to monitor project progress, and Turner and the Kings also made the way they sourced labor a priority when hiring local low-income, homeless, veteran, ex-offender and former foster child employees as part of their Community Workforce Pipeline initiative.
Recommended Reading
Sacramento Bee: Golden 1 Center the 'greenest' arena in U.S.
USGBC: Sustainable Stadiums
Golden1Center.com: Sacramento Kings New Arena Is First Indoor Sports Venue to Earn LEED Platinum Designation
By Kim Slowey | Waste Dive|September 26, 2016