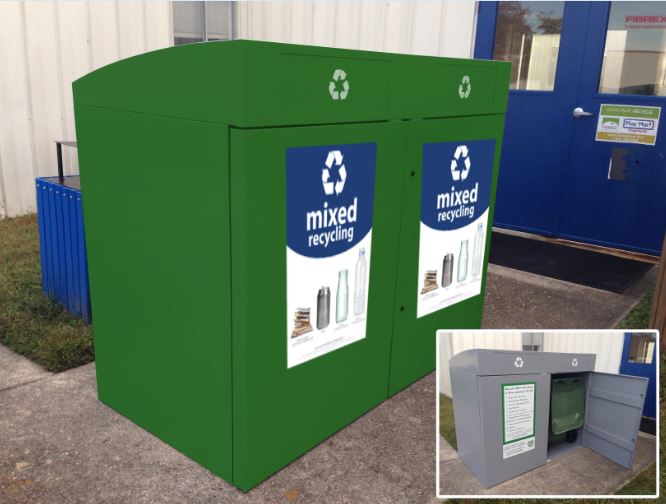 If you run a stadium, park or concert venue, you could learn a little about recycling from the Carolina Panthers. Tailgaters had tons of fun in and around the Stadium this past football season, and in the process they helped collect tons of recyclable material.
The recycling initiative, spearheaded by the Panthers and Keep Mecklenburg Beautiful, collected a record 45.35 tons in its sixth season. Combined with the 83.28 tons of recycling and food waste gathered inside the stadium, a record 128.63 tons of material was collected during the 2014 season.
"The Panthers have had a recycling program since 1997 that we started inside the stadium because it was the right thing to do," director of stadium operations Scott Paul said. "We continue to look for ways to improve the program. Five years ago, the Panthers were approached by Keep Mecklenburg Beautiful executive director about a recycling program in parking lots for tailgaters.
"We put together a team from Bojangles, the Panthers, Center City Partners and the City of Charlotte Solid Waste, and we got buy-in from parking lot operators surrounding the stadium. The program has been very well received."
The collaborative effort has been embraced by everyone involved, including Panthers fans themselves.
"Our fans have bought into the recycling program at the parking lots around the stadium so much so that they now approach our volunteers to ask for the recycling receptacles."
"We continue to see growth in the recycling program outside the stadium as our volunteers continue to bring awareness to the program in these parking lots. Inside the stadium, we have a dedicated staff of people that get every piece of recyclable material up before we begin picking up the trash."
When your patrons self-police their waste, you save money in clean-up costs while simultaneously making your venue appear cleaner and more professional. The perfect recycling and waste containers for any public venue include the Revolve Depot and the Encore special event boxes. The Revolve will transform you 95-gallon wheeled carts into an attractive and durable dual stream recycling or waste container. Perfect for those tailgates outside of large stadiums. The Encore single boxes or stations are excellent for collecting smaller amounts of waste/recyclables from tailgaters. These boxes are even cost-effective enough that they can be purchased by the team or school and sold to individual groups to enhance fundraising efforts for the team. Increase your participation rates and support the home team at the same time!
Are you interested in a recycling program for your municipal or college stadium? Contact the Fibrex Group for more information on recycling containers that can even be branded with your team or venue logo.