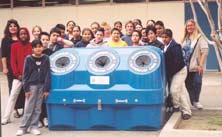 The City of Raleigh makes it easy for residents living in apartments, condominiums and townhouses to participate in the Raleigh Recycling program. The program provides collection centers in convenient locations in multi-family communities. The Fibrex Profile 6 Compartment Recycling Container has been an integral part of increasing the recycling rate in Raleigh.

The Profile line of recycle containers are very attractive in appearance and easy to use. Made from quality fiberglass with a high gloss gelcoat finish, these containers need little maintenance and will perform beautifully year after year.

High participation in the Raleigh Recycling Program shows that residents care about their environment and are willing to do their part to help reduce the amount of solid waste put in the landfill. The management at each complex distributes city provided educational materials to their residents and are responsible for keeping the recycling containers and the collection area neat and clean between weekly collection visits.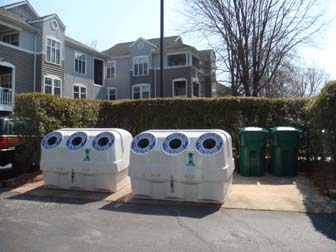 Raleigh Recycling collects thirteen different materials for recycling which include:
• glass food and beverage containers
• food and beverage cans
• aluminum foil and trays
• plastic bottles
• plastic beverage rings
• milk, juice and laundry softener gable top cartons
• aseptic drink boxes
• newspaper and all inserts
• magazines and catalogs
• white paper, including junk mail
• paperboard, chipboard and paper tubes

"I think we truly have a success story with our program," says Linda Leighton, the Waste Reduction Specialist for The City of Raleigh. "It's been a long, long, long road with lots of bumps due to budget restraints. We are getting closer and closer to having recycling containers at all of our multi-family communities, despite the small funding and creative ideas we've had to deal with in the past. With the economy the way it is and the whole growth of 'green' everywhere you look, the property managers are beginning to get pressure from their residents to recycle in their communities. We have 480 multi-family communities participating to date (67%), and the participating units include 50,606 which is a 79% inclusion!"

If you are a property owner interested in recycle containers, Fibrex Group can help you determine the best, most efficient and most economical recycle bins for your multi-family property. For more information contact us today.