All qualifying government entities can purchase Fibrex's full line of Profile Used Oil Collection Containers, our ever-popular Recycling Container Boxes, and the newest line of RecyclePro Recycling Receptacles through our GSA Contract #GS-07F-0239M.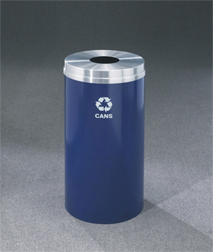 The Mobius 2 Recycling containers are attractive indoor recycling containers which combine high-end design at an affordable price. The innovative Mobius 2 Recycling Station comes standard with two compartments featuring molded drop-in openings for collecting bottles and cans, paper products and trash. Each compartment holds up to 25 gallons and is fitted with a rigid plastic liner. These indoor recycling stations are available in an unlimited combination of colors and finishes, and are perfect for even the most discriminating locations.

Profile Used Oil Collection Containers

The Profile Used Oil Collection Containers make it easy to collect used oil from the Do-It-Yourself oil changer. Conveniently located used oil drop-off sites equipped with attractive and user-friendly tanks are an essential element for any successful used oil program. The Profile Oil Container is specially designed to accept used oil from the public. This attractive unit is very user-friendly which improves program participation and aids in keeping the collection site clean.

Recycle Box Recycling Container

The Recycle Box is a low cost collection solution for all types of recyclables. It's available in both 32 and 44 gallon capacity and can be easily customized to fit your specific industry needs. It's designed to enhance any establishment and will help you meet your going green goals by increasing recycling rates at your facility.

Recycle Boxes are very economical yet sturdy recycling containers and flexible enough to be used indoors and out. We offer many standard graphics, as well as great custom designs for use at grocery stores, schools, offices, warehouses, malls, churches, golf courses, stadiums, hospitals, airports, zoos and many, many more.

RecyclePro Recycling Containers

Supplied with heavy gauge, seamless, hand-spun aluminum covers, the RecyclePro Recycling Receptacles are durable as well as attractive. There are a variety of openings available for each recycling hole on the lid, allowing the RecyclePro to conveniently sort the recyclables in a way that is best suited for your facility.

RecyclePro Recycling containers have custom color covers and bodies that are silk screened with professional, clear messages and logos that last indefinitely.

Custom messages and corporate/government logos are easily prepared to customize your RecyclePro Recycling Receptacles.

Please contact us at 1.800.346.4458 for a custom quote or catalog.