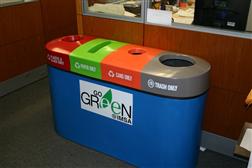 The Fibrex Group manufactures customized Recyling containers and bins tailored to the specific needs of your business. These recycling collection tools are supremely functional while simultaneously communicating your business' commitment to "going green".

For indoor use, our highly popular "Mobius Recycling Stations" come with multi-color lids and in a wide variety of colors certain to blend perfectly within your business space. They are perfect for inside public and commercial buildings such as offices, airports, malls, hotels and schools.

Want a fire-proof aluminum or steel to torecycle bin that is attractive and functional? Our RecyclePro recycle bins are ideal for every location. Every part of these recycling receptacles is constructed with recycled metals in the U.S.A.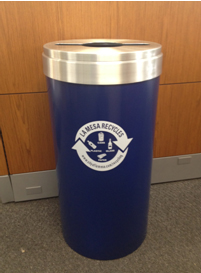 Until April 30 take advantage of our "March Madness Logo Sale". We are offering free customization on all of the Mobius and RecyclePro Recycling Bins and Waste Receptacles. Your organization's logo and colors will shine bright with digitally printed logo decals.

Mobius and RecyclePro recycling bins are designed to function in the most demanding public spaces. Great for commercial LEED buildings, office complexes, convention centers, airports, schools & universities.

Promote your green image, while collecting recyclables and diverting waste from landfills with Fibrex Recycling Containers. Our beautiful high-gloss gel coats, satin aluminum and satin brass finishes are built to last. Custom drop-in openings give you an opportunity to create and choose a style that you're your businesses collection methods.

FREE PERSONALIZATION OF FIBREX RECYCLING CONTAINERS - Offer is valid for new quotes and orders only. Recycling container product must be purchased to receive free personalization - expires April 30, 2012. Contact The Fibrex Group for further information.