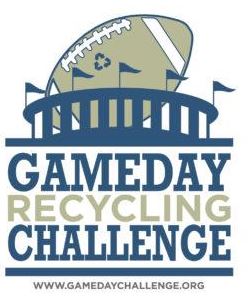 The GameDay Recycling Challenge is a nationwide competition among universities to reduce and recycle the waste generated at home football games. During each competition cycle, participating schools report recycling, compost and attendance data for at least one home football game. In 2015, 99 schools rallied fans to recycle an impressive 2.1 million pounds of bottles, cans, paper, cardboard and more, and compost 457,000 pounds of food organics from football stadiums and tailgating areas while also raising awareness and inspiring action around waste reduction.
The GameDay Recycling Challenge is administered by the College and University Recycling Coalition (CURC), RecycleMania, Keep America Beautiful and the U.S. Environmental Protection Agency's WasteWise.
Officials from the US EPA, Keep America Beautiful, CURC and RecycleMania were on hand to recognize the national winners of the 2015 competition at the Green Sports Alliance Summit in Houston on June 29, 2015.Check out the full 2015 Results.
Diversion Rate Champion: Ohio University – 95% diversion
Total Recycling Champion: Louisiana State University – 86,000+ pounds recycled