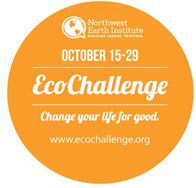 The
EcoChallenge
was started by the Northwest Earth Institute based in Portland, Oregon to
raise awareness about sustainability and taking responsibility for the Earth
. Beginning on October 15 and ending on October 29, this is a perfect opportunity for all of us to reduce our footprint, cut our energy consumption or just start a new sustainable habit to make the Earth a better place for all of us.
Every employee at The Fibrex Group has set a goal in one of six categories: water, energy, food, waste, transportation or civic engagement. Whether it's carpooling to work, recycling, or using reusable food containers for lunch every little pledge makes a difference.
Why Should I Take on the #EcoChallenge?
Challenge: The #EcoChallenge is a chance to push yourself, adopt a new habit, reduce your impact, and challenge your teammates to work toward a sustainable future!
Community: Registering for the EcoChallenge connects you to a growing community of folks who are making a difference. Connect with others who are taking on the EcoChallenge on this website, and through NWEI's Facebook page. Together we can inspire each other and be a force for change.
Inspiration: With so many ways to approach sustainability, it can be tough to know where to start. We provide you with tips and success stories in each EcoChallenge category (water, energy, transportation, food, or trash) to help inspire you.
Savings: There are many ways to save money by taking on the EcoChallenge. Reducing your energy consumption and water use will cut your monthly utility bills. Diverting waste to recycling and compost could allow you to reduce the frequency of your trash service! Pursuing alternative transportation is sure to save you money too. The EcoChallenge is good for the planet AND your wallet!
Accomplishment: Now is your chance to give a new habit a shot—you may find out that it's easier than you imagined. We also encourage you to share your progress with your friends and family, or better yet, take the EcoChallenge together and celebrate your joint accomplishments!
Fun: Many participants tell us their EcoChallenge led to surprising discoveries and unexpected benefits. The romance of an "un-plugged" dinner by candlelight. The smell of fresh bread wafting out of a neighbor's kitchen during a bike commute. The thrill of finding a treasure at a secondhand store. What will you discover?
Prizes: The EcoChallenge Raffle is better than ever this year! Collect points for participating in the EcoChallenge and win prizes from your favorite local businesses!