It seems everywhere you look these days, hip urban designers are breaking down the formality of permanent structures and reclaiming public streets to create playful parks, plazas, cafés and playgrounds. The concept grew out of the pavement-to-parks movement in San Francisco, a city where public rights-of-way make up 25% of the city's land area; more space than all the public parks combined. Here are 5 of our favorite 'Pop Up Parks' from near and far, starting with the one that inspired the trend; a simple, temporary park installed by San Francisco's Rebar Art & Design Studio.
PARK(ing) Space by Rebar
San Francisco, California
According to Rebar Art & Design Studio, one of the more critical issues facing urban human habitats is the dearth of outdoor space for people to rest, relax, play or just do nothing. For example, more than 70% of San Francisco's downtown outdoor space is dedicated to private vehicular parking, while only a fraction of that space is allocated to the public realm.
PARK(ing) is an experiment in reprogramming a typical unit of private vehicular space by leasing a metered parking spot for public recreational activity. On November 16, 2005, Rebar identified a public parking space situated in an area of downtown San Francisco that was underserved by public outdoor space, and located in an ideal, sunny location between the hours of noon and 2 p.m. They installed a small, temporary public park that provided nature, seating, and shade, temporarily expanding the public realm and improving the quality of urban human habitat – or at least until the meter ran out!
This simple two hour intervention has blossomed into an international event called Park(ing) Day where artists, designers and citizens around the globe reclaim the streets for recreation, for fun, and for play.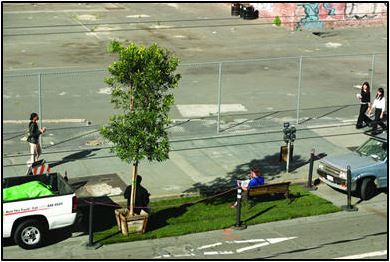 This simple pop-up park above by San Francisco architects Rebar included sod, a bench, and a tree.
What better way to enhance your pop-up or permanent park than with recycling containers or recycled plastic benches? The Fibrex Group can provide you with a large variety of sustainable models to choose from. Check out our website at www.fibrexgroup.com or give us a ring at 1.800.346.4458.
Portions written by Stephanie Norton at 'CAD Details'