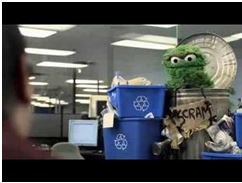 Big Bird's nest has moved to a tree. Elmo has moved from an apartment into a brownstone. His best friend, Abby Cadabby, loves her new community garden. And while Oscar the Grouch still makes a trash can his home, he now pops up through an underground tunnel of connecting recycling and compost bins.
Welcome to the new "Sesame Street," where the word on the street this season is C-H-A-N-G-E.
After 45 years on the public broadcaster PBS, Big Bird, Elmo and the rest of the "Sesame Street" crew are settling into a renovated set as well as a new television home on the premium cable network HBO. Season 46 starts Saturday morning.
"Everything has been changing around here," Carmen Osbahr, the puppeteer who for 26 years has performed as the turquoise, hug-loving bilingual monster Rosita, said recently, during a break from filming the coming Valentine's Day special.
Festooned across the set were red and pink valentines. Heart-shaped cookies with red gumdrops sat on the counter at Hooper's Store, which has undergone a Williamsburg-like renovation.
"It is more like things look now," Ms. Osbahr added. "When Sesame Street was created, it was kind of more like New York Bronx. Now, Oscar has a recycling can. That is amazing."
"Sesame Street" is performing a delicate balancing act between old and new; even as it seeks to preserve its mission of using the power of entertainment media to educate children, it is trying to remain relevant and available to a generation of children who do not distinguish between a television and a mobile phone screen.
"If you know the audience, you can serve them better, tell better stories, and they will love you more," said Brown Johnson, executive vice president and creative director at Sesame Workshop, the nonprofit group behind the program.
Want some of Oscar's recycling bin stash? Check out the Fibrex Group website for our full selection that you and your community will love to use! Work. Play. Recycle.
**Some content by EMILY STEEL Jan. 12, 2016 - New York Times