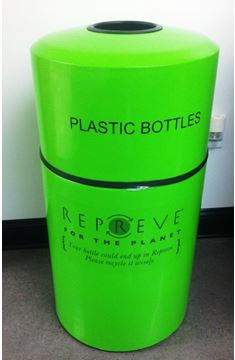 The Fibrex Group is pleased to manufacture our Mobius DS1 unit for the Unifi production facility in Brazil, South America. This facility produces the Repreve recycled fiber that is then turned into fabrics for major retailers such as North Face, Quiksilver, Volcom, Roxy and Patagonia (to name a few).
Repreve helps turn recycled plastic bottles into cool things we can wear and use every day. Toss your plastic bottles in the recycle bin, NOT the trash. Recycled bottles are cleaned, chopped, melted and turned into little plastic chips. Chips are transformed into Repreve recycled fiber, and then into fabrics. Look for brands that are made with Repreve when you shop.
In 2013, Repreve turned more than 740 million recycled bottles into fiber, allowing the brands you love to #TURNITGREEN.
About Unifi: Unifi Manufacturing, Inc. is a leading producer of multi-filament polyester and nylon textured yarns and related raw materials. They provide innovative, global textile solutions and unique branded yarns for customers at every level of the supply chain.
Unifi is driven by innovation and committed to global product commercialization. Our goal is to provide both customers and consumers with products that enhance the value of everyday products; from hosiery and apparel to contract furnishings and from industrial applications to automotive upholstery.
Since their founding in 1971, Unifi has remained committed to excellence. They take pride in the manufacturing of their products and strive to provide customers with exceptional quality and service around the world. These are the common threads that unite everything we do.
For more information about the Fibrex Group's Mobius line of recycling/waste receptacles please give us a call at 1.800.346.4458.
Work. Play. Recycle.
#FibrexGroup
#TurnItGreen
#repreve