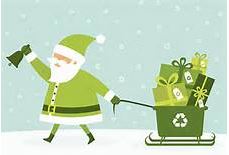 Thanks to CalRecycle, we would like to pass on some sustainable tips for cutting the amount of trash generated this holiday season and simple steps to recycle your holiday waste & conserve our natural resources.
For example, an estimated 2.6 billion holiday cards are sold each year in the United States, enough to fill a football field 10 stories high. Electronic holiday greeting cards, offered through a variety of websites, are a convenient, no-cost, waste-free alternative.
It's estimated that between Thanksgiving and New Year's Day, more than 1 million tons of additional waste is generated each week nationwide. In fact, 38,000 miles of ribbon alone is thrown out each year--enough to tie a bow around the Earth.
When shopping for family & friends, look for recycled-content products. Be sure to stock up on rechargeable batteries for all of those gadgets & electronics as well. And always take your reusable shopping bag with you when heading out to your local retailer. Malls & big box stores are great, but we prefer to support our local small businesses during the holiday season.
Recycle that Christmas tree once the big day has passed. Contact your city or county's recycling coordinator to find our where to recycle your tree. If you live in a beach community, ask them about recycling your tree as part of a dune renewal project.
As always, check out the Fibrex Group website for all of your recycling needs year round. We are the best source for recycling containers, waste receptacles, recycled plastic site furnishings and sustainable playgrounds. All of our products are designed & manufactured in the USA! Reduce. Rejoice. Recycle.