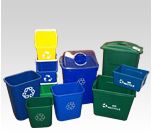 Nearly 400 colleges and universities across the U.S. will complete in this year's RecycleMania, a competition between schools to see who can recycle the most.
The annual competition, now in its 15th year, will play out over the next two months, as schools report their recycling rates on a weekly basis. They'll compete in various categories, including per-capita recycling weights, total weights recycled and composted, and diversion rates. The categories also include competitions geared toward specific materials, including paper, cardboard, bottles and cans, food service organics and scrap electronics.
In 2014, a total of 461 schools participated in the challenge and recycled and composted 85.6 million pounds of material, according to RecycleMania's website.
This year 392 schools will participate, marking a continuation of a four-year slide in participation, although participation is still well above what it was a decade ago, when 46 schools participated. In 2011, as many as 630 campuses were participating, according to the RecycleMania website.
The decrease can be attributed to several factors, according to RecycleMania Program Manager Alec Cooley.
"Some schools have passed on that the program has been a value but, in a sense, they've graduated from it," he told Resource Recycling. Additionally, many schools have morphed their recycling programs into broader sustainability departments, requiring recycling to compete for attention each year with other priorities, including energy conservation, he said.
New this year is a "3R Actions Challenge" category. When students post digital messages and photos to document their waste reduction or recycling actions, they'll earn points to determine their school's standing in the category.
"We've been looking for ways to engage students directly," Cooley said "This is dipping our toes into the water, getting a feel for how we can better leverage digital platforms to engage students."
Last year's national winner for the highest diversion rate was Antioch University Seattle, with a 93 percent diversion rate.
The Fibrex Group is the best place to get those recycling bins for your dorm room, fraternity or sorority house, cafeteria or classroom. With our large selection of budget-friendly recycle bins, your school will be super competitive for RecycleMania this year!
Original By Jared Paben, Resource Recycling