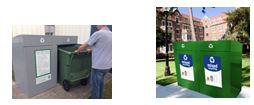 Reduce trips and collect more without any of the heavy lifting involved with manually emptying bags or bins. Automate and optimize your recycling and waste collection in public spaces with the Revolve Recycler by the Fibrex Group. Revolve is an innovative housing for wheeled collection carts that fits a wide variety of cart designs. Each model holds two 35, 65 or 95 gallon wheeled carts and can be fitted with Enevo smart bin sensor technology. Enevo is the leading wireless waste container fill-level sensor that can save you 50% on waste collection and disposal costs.
Waste collection has usually been performed using static routes and schedules where containers are manually emptied every day or every week regardless if they are full or not. The Enevo ONe smart bin sensor makes that method a thing of the past by using wireless monitors to collect data from waste containers inside the bin. Enevo equipped smart bins reduce costs, emissions, road/vehicle wear, noise pollution and staff hours and provides you up to 50% in direct cost savings in waste logistics.
Revolve is made out of rust resistant galvannealed steel and has no exposed fasteners. All units come with an architectural grade powder coated finish both inside and out. Revolve recycling/waste/compost containers can be made in the color of your choice and fitted with your custom logos. On the front are two large spring hinged drop-in openings fitted with an interior chute to guide the recyclables into the carts. Two universally keyed front doors lock for security and open all the way for easy emptying. Custom easy to read, pre-applied vinyl or magnetic decals on the front of the unit indicate the desired waste/recycling stream to your users.
The Revolve smart design can be shipped un-assembled to reduce freight. It's easily assembled with standard tools. Fully assembled shipping and installation is available as well. The Revolve Depot contains 30% minimum recycled content and is made entirely in the USA. Custom designer colors, advertising panels and signage are available upon request.
Click here to fill out the form on our website, and we'll get back to you with further information and pricing. Or contact our sales department directly at 1-800-346-4458 x102. We look forward to assisting you!