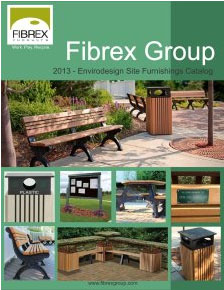 The Fibrex Group is please to release it's new 2013/2014 Envirodesign Site Furnishings Catalog. To check it out, please click here to view the brochure.
Our Envirodesign site furnishings product line - which includes park benches, picnic tables, recycling/trash receptacles, bike racks and message centers - includes a perfect sustainable solution for your park, campus, corporate or hospitality green space. We have combined sustainable design with industrial strength to create an exclusive line of public site amenities. Our quality construction will ensure many years of service even in the busiest and harshest of environments.
Recycled plastic lumber is built to last and features up to 95% post consumer (milk jugs) recycled content. RPL has a wood-like appearance and does not require any maintenance since it does not absorb any moisture. Envirodesign products will never need waterproofing, painting or staining and will never rot, rust, crack, decay, split or splinter. Design makes the difference!!
For more information or to view the entire Envirodesign line of products please visit www.fibrexgroup.com or give us a call at 1.800.346.4458.