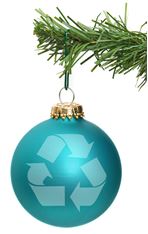 Americans throw away 25 percent more trash between Thanksgiving and New Year's Day than any other time of year. That's about 5 million extra tons of waste going into landfills during the holiday season.
Making the season greener can be as simple as making one change a day — let's say for 12 days.
Day 1: Overloaded with holiday gift catalogs? Get rid of that paper by taking your name off the mailing list of catalogs and other mail you no longer want.
Day 2: Donate gently used toys your children no longer used to local charitable organizations.
Day 3: Opt to send holiday e-cards instead of paper holiday cards. It will save on waste and on postage.
Day 4: Swap your old holiday lights for LED lights. Some stores will give you a rebate or discount on LED lights if you bring in old strands for recycling.
Day 5: Having a holiday bash? Give leftovers to guests in reusable containers as they leave so nothing goes to waste.
Day 6: Set out a clearly marked recycling bin for holiday party guests to recycle empty bottles and cans.
Day 7: Decorate for the holidays using materials you already have around the house. Decorations like ornaments, garland and wreaths can be made with many different materials.
Day 8: While shopping for holiday gifts, consider purchasing items that use less packaging.
Day 9: Reusable bags are not just for trips to the grocery store. Use them on your next holiday shopping trip.
Day 10: Use butcher paper that your kids have decorated or the Sunday comics as wrapping paper this year. Tissue paper and most gift wrap can't be recycled.
Day 11: If you or someone you know is getting a new electronic gadget this year — think TVs and computers — be sure to recycle the old or unwanted one.
Day 12: Take stock in all of the green changes you made and enjoy the fact you have reduced your footprint this holiday season.
Check out www.fibrexgroup.com for the best selection of recycling containers, sustainable site furnishings and recycled plastic lumber playground equipment.
Reduce. Rejoice. Recycle.
Originally written by Mark Walter for Press-Gazette Media