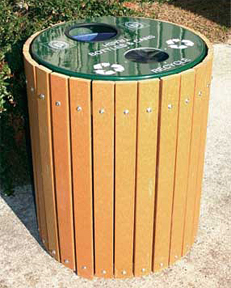 The Envirodesign RL4200 is the perfect outdoor recycling container for collecting waste and recyclables in public spaces. Built to withstand the most demanding high traffic public areas and attractive enough for the most discriminate of locations. This 2-compartment recycling bin is made from recycled materials as well - from recycled plastic milk jugs!!

The large drop-in openings give you the flexibility to collect a wide variety of paper, plastic or glass, compostables or waste. The recyclables are collected inside with two rigid half-moon plastic liners that hold 21 gallons each. Openings are 8" round for waste and a 6" round single stream recycling configuration.

The recycled plastic lumber slats that surround the outside base of the recycling container are available in the following colors: Cedar, Brown, Gray, White, Black, Yellow, Blue & Red.

Dual opening lid color options are: Green, Blue, White, Black, Gray, Yellow, Red, Tan, Orange, Maroon, Purple & we can also match any custom color.

Recycled plastic lumber has a wood-like appearance and does not require any maintenance since it does not absorb any moisture. It will never need waterproofing, painting or staining and will never rot, rust, crack decay, split or splinter. Recycled plastic lumber is the environmentally friendly and economically superior alternative to traditional wood, steel and aggregate concrete products.

Public area recycling containers permit people to practice their good recycling habits when at work or at play. Our multi-compartment receptacles allow for source-separated collection of recyclable beverage containers, recyclable paper products, compostables and residue waste products. Designed to last, resist vandalism and bad weather, these receptacles are attractive in design and perfect for high traffic areas such as parks, universities, city streets, sidewalks and many other pedestrian public spaces.

Call us now at 1-866-756-4560 or contact us for more information. We offer excellent factory direct and GSA contract pricing for your needs.