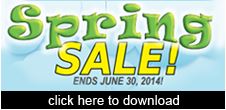 Most of the country has finally felt the warm spring temperatures instead of the dreary and cold winter breezes that we have endured for months. Now is the perfect time to design and build a new playground for your school, church, daycare center, or neighborhood park. With Play Mart's spring sales announcement, why not take advantage of this opportunity to get some recycled plastic equipment before the offer expires on June 30.
Fibrex Group offers a wide variety of recycled plastic lumber site furnishings and is an authorized distributor of Play Mart® Playgrounds recycled plastic play systems in the mid-Atlantic states of VA, MD, DE, DC & NJ. Choose from a wide variety of standard configurations, or work with our designers to create the park or playground of your dreams. We offer complimentary 2D & 3D design and site plan services, and are happy to come visit your site for a free consultation at your convenience. We can also handle your installation and surfacing needs with ease. Call or contact us today for your free full color catalog.
Budget constraints? Why wait? Finance a Play Mart playground! Upgrade your play site now, with monthly payments that fit your budget. We have financing plans that support our full product line. Call us to get pre-qualified now.