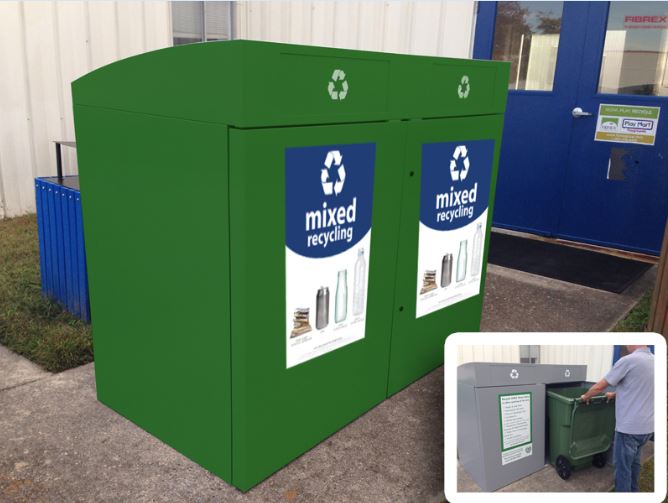 Recycling plastics, glass, cans and all kinds of paper will be much simpler for Roanoke residents soon, when the city converts to "single-stream" recycling.
That's a process in which all recyclables are collected in a single batch and sorted by machinery later. It will mean an end to sorting in your garage or basement and trying to remember which week to put out paper and which week cans and bottles are picked up.
About 34,000 Roanoke households will receive new wheeled recycling receptacles, according to Roanoke Solid Waste Manager Skip Decker. The recycling cans will be similar to the dark blue trash totes city residents already use, but will be in a lighter shade of blue. Most will be the large, 96-gallon variety, but some will be 64 gallons to accommodate tighter spaces.
Residents can put all of their recycled materials into that recycling container, which will be picked up every other week. The city will return to an "A" week and "B" week pickup schedule, with one week for trash and recycling and the other for trash only.
The target date for using the new cans is Oct. 5, but that will depend on getting the new cans distributed in time. Roanoke will be only the second locality in the region to take on single-stream recycling.
Decker said he expects recycling in the city to double from about 250 tons per month to 500 tons, with a goal of 700 tons — the amount for which the city is paying Recycling Disposal Solutions whether it processes that much or not.
The city will pay Roanoke-based RDS to provide and distribute the cans and process the materials at a cost of $200,000 a year. But with savings in temporary labor costs and spending less on tipping fees for garbage, because less material will be going to the landfill, the program should operate at a small deficit for a few years and then begin breaking even in 2019, according to figures Decker showed the council.
As part of the change, trucks will begin picking up both bulk and brush items on a weekly basis.
For more information on recycling containers and programs, contact The Fibrex Group.
Roanoke.com