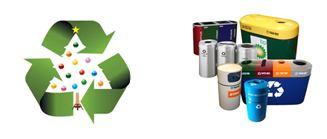 With a little thought, you can reduce, reuse and recycle during the holidays to give the environment the precious gift of less while saving yourself time, money and stress. Follow these tips to get started:
1. Throw a green holiday party - Get ideas from the 10 Simple Ways to Go Green at a House Party list.
2. Reduce food waste - Make cleaning up after your party easier by reducing holiday food waste.
3. Send eCards or recycled-content cards - Recycle paper cards and send electronic holiday cards to reduce paper waste.
4. Give the gift of togetherness: No-waste gift ideas - Sometimes the most cherished gifts we can give are our time, love and energy. Consider making a charitable donation in someone else's name. Or, give an experience or an event to remember, such as:
Candlelit dinner
Tickets to a concert sporting event
Passes to a favorite park
Gift certificates to dinner, for a massage or day at the spa
Membership to a museum or zoo
Make a coupon or gift certificate that offers your time to walk a pet, babysit or help with extra chores
Giving the gift of an experience is a great option for children who want to give family gifts but don't have the money or a way to buy them. Let children know that homemade gifts and gifts of their time are more valuable to you.
5. Take reusable cloth bags on shopping trips - Thousands of bags end up in our landfills during the holidays. Reduce the number of bags by bringing reusable shopping bags for holiday gift shopping. If you do use paper bags or plastic bags, recycle them when you no longer need them.
6. Give quality gifts - Durable products last longer and save money in the long run. Cheaper, less durable items wear out quickly and create more landfill waste.
7. Use earth-friendly gift wrapping alternatives, such as
Scarves, handkerchiefs and bandannas
Old posters and maps
Newspapers (the comic sections works great) & magazines
A present in a present. Place gifts inside reusable containers like cookie tins, flower pots, and baskets or wrap gift in cloth napkins or kitchen towels.
Give a "treasure map" to find an unwrapped gift hidden elsewhere in the house
Use re-useable or re-used gift bags
8. Use rechargeable batteries - About 40 percent of all battery sales occur during the holiday season. Rechargeable batteries reduce the amount of potentially harmful materials thrown away, and can save money in the long run.
9. Turn off or unplug holiday lights during the day - This saves energy and lights last longer. Recycle unwanted or broken string lights.
10. Recycle your live Christmas tree - When the holiday season is over, recycle your holiday tree and wreath.
Quick Facts
From Thanksgiving to New Year's Day, household waste increases by more than 25 percent. Added food waste, shopping bags, packaging, wrapping paper, bows and ribbons—it all adds up. And it's not just trash. The average American spends $800 on gifts over the holiday season.
*Fact source: EPA at http://www.epa.gov/osw/wycd/funfacts/winter.htm and www.rethinkrecycling.com