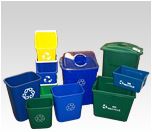 This blog was first a newspaper article that several organizations were hoping would end up in a recycling bin.
Sodexo, the Butler County Recycling and Solid Waste department, and Keep Middletown Beautiful are taking steps to increase recycling throughout the school district, and eventually in the community.
The earlier the recycling habit is taught, the more likely it will become a lifestyle. A member of Keep Middletown Beautiful said, "If we can get it built into the students for life, they will patrol their parents."
Recycling bins are being added at all of the district's 11 schools. Recycling bins will be located in all the cafeterias and they will be emptied daily by the custodians.
Blue plastic recycling bins also will be placed in every classroom in the district. The hope is that every school will create a Green Team that will empty the paper recyclables once a week.
The bins will be located in most of the schools sometime this week, then after potential issues are addressed, the remaining recycle bins will be placed in all the other schools, probably within two weeks.
The Butler County Recycling and Solid Waste department is providing the district literature to be placed throughout the schools, encouraging students to participate in the recycling program.
For more information on recycling containers for your schools, contact The Fibrex Group.
journal-news.com