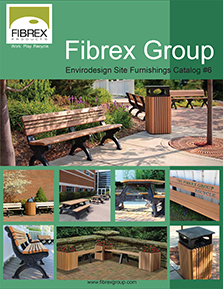 Part of what makes outdoor furniture sustainable is its sturdiness—its ability to last for years without requiring replacement. Another green factor are the materials from which the furniture is made. Fortunately for hoteliers, there is a wide variety of sustainable outdoor furniture available that uses strong green materials. A large percentage of that furniture is made from recycled plastic—primarily high density polyethylene (HDPE) from recycled milk jugs and other containers. Suppliers have their own names for the plastic material that can be used in the construction of furniture items ranging from chairs to tables to towel valets or caddies. Furniture made with a high percentage of HDPE will not chip, corrode or discolor and is impervious to insects, mold and moisture. It is also not affected by salt or chlorine. Outdoor Furniture made from recycled plastic can be recycled again at the end of its life.
Here is a rundown of one of the most prominent suppliers that sells outdoor furniture that includes recycled plastic content, or something similar:
Fibrex Group—Known for its selection of recycling centers, waste receptacles and other items such as playground equipment, Fibrex Group also offers site furnishings such as picnic tables and benches. Also around since 1990, Fibrex Group's products are made from recycled plastic lumber that includes 95 percent post-consumer recycled HDPE. According to Fibrex Group, almost all of its manufacturing waste and more than 75 percent of its operation's waste is recycled.
Excerpts - greenlodgingnews.com