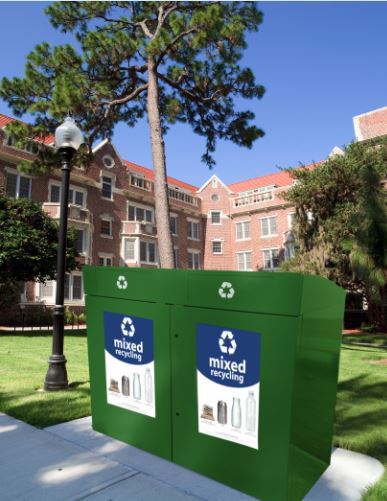 Paper, cardboard, cans and bottles — Oklahoma State wants it all.
OSU continues to make recycling a priority, as the university recycled more than 490 tons of cardboard, paper, plastic bottles and aluminum cans last year alone.
The OSU Recycles program made that achievement possible.
OSU Recycles is responsible for handling the recyclable materials generated on the main campus.
OSU has been recycling paper and cardboard since 2009, and its recycled cans and bottles since 2010. The university began officially marketing the program in 2013.
The marketing coordinator for Residential Life said there is one key distinction to keep in mind when recycling. Two separate entities handle recyclables on campus, meaning not all containers accept the same materials.
The OSU Recycles program processes material produced at non-residential areas on campus, including the bins around campus that call for separated materials.
The second program, Res Life Recycles, is run by a separate entity, which processes recyclables from students living in residential housing.
It's important for students, faculty and staff to know the distinction because of the difference in how the material is sorted.
When disposing of recyclables on non-residential areas of campus, it's essential that people take care to throw their materials in the corresponding recycling containers. But for students in residential areas, they're free to dispose of all their recyclables in a single container.
Many tons of recyclable materials pass through these OSU recycling programs every year. In fact, 218 tons of cardboard alone passes through OSU Recycles annually.
Once the recyclables are packaged, OSU sells the cardboard and paper to the highest bidder, and they ship the cans and bottles to a facility in Oklahoma City.
The revenue made from those sales is used to continue funding the OSU Recycles program.
For more information on a recycling program and the right recycling containers for college campuses, contact the Fibrex Group.
ocolly.com