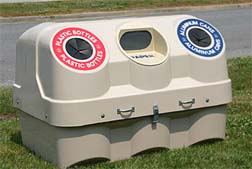 The Nebraska Department of Environmental Quality (DEQ) awarded 54 grants totaling more than $1.6 million to support projects across the state dedicated to recycling, litter cleanup and education.
"There were many outstanding applications submitted to NDEQ this year," DEQ Director Jim Macy said. "The grant awards will support many important local efforts to recycle and reduce litter across the state."
The DEQ awarded 24 Recycling Grants, totaling $916,975, for programs that allow Nebraska residents to divert their solid waste from the state's landfills. Projects could deal with standard recycling materials, like aluminum and paper, or less well known recyclables including electric computer parts, fertilizer or pharmaceutical items.
The state's Cleanup Grants help projects looking to pick up litter and debris from the state's public areas, including waterways and recreation lands. The DEQ issued 12 grants this round, for a total of $108,483, with many of the projects recycling the collected litter.
The grants recently awarded also included $609,545 in funding for 18 projects to promote recycling and cleanup programs through environmental education initiatives.
The DEQ funds these grants through its Litter Reduction and Recycling Grant Program, which charges manufacturers, wholesalers and retailers of products that create litter.
Recycling helps each state beautify it's green spaces, creates jobs, helps the environment and can bring much needed money to the budget. If you are interested in finding out more information on grant money that may be available to your state get in touch with your states DEP to find out more. For more information on recycling containers for your schools and municipalities, contact the Fibrex Group.
EP News Wire