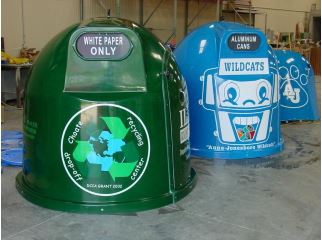 When you think of an American football stadium, certain imagery comes to mind — lights bright enough to turn night into day, parking lots sprawled over areas large enough to accommodate thousands of vehicles, game day traffic, and food in Styrofoam and plastic packaging. It's not exactly the most eco-friendly mental picture.
But a modern American football stadium is no longer simply a venue in which to watch a game. Stadiums must now be multi-purpose, able to accommodate luxury and VIP seating and suites and a wide variety of food and beverage options, with space and facilities to hold concerts, rallies, and other large-scale events.
With so much going on in their stadiums year-round, many teams are ramping up their efforts to go green, transitioning to the use of technology and innovative designs that have a lower impact on the natural environment. Some stadiums, in particular, have made some incredibly cool changes recently.
Going Green
The Philadelphia Eagles are recognizable by their "midnight green" color, so adopting acampaign called Go Green within their home; Lincoln Financial Field seems only natural. The campaign, launched in 2003, has three simple components — recycling, conserving and purchasing green technology.
Recent changes to "The Linc" include the installation of 11,000 solar panels on and around the stadium. They are located on the outer sides of the structure and on the roof.
Even better are the 8,100 panels located in the stadium's parking lots, which are elevated from the ground so vehicles can park in their shade while they help to generate power. On a sunny day, the panels have been known to provide over 21,000 kilowatt-hours of electricity.
That's almost enough to power two average American homes for a full year, and it's more than six times more power than what is needed on a game day. And when there's no game? The stadium is actually putting power back into the grid.
Giving Back
Recycling containers are placed frequently throughout the stadium, and there is signage that encourages patrons to recycle. The stadium has reduced its water use, employs biodiesel cooking oil and uses recycled, compostable food packaging. Even the cheerleaders' calendar has gone digital to save paper. Other teams are pursuing similar green endeavors.
At CenturyLink Field, home of the NFL's Seattle Seahawks and the MLS's Seattle Sounders, 3,750 solar panels take up multiple acres of space on the roof. The Twins' home stadium, Target Field, collects rainwater that gets used to wash down the stadium seating. In sweltering Miami, the Heat stay cool in American Airlines Stadium thanks to a reflective roof and underground parking that help them save on air conditioning costs.
The recently constructed Levi's Stadium, where the San Francisco 49ers play, sports not only solar panels but also a green roof covered in plant life covering its luxury suites.
Attractive Design and Installation
The Linc also sports 14 wind turbines said to be in the shape of eggbeaters. These are not nearly as efficient as the thousands of solar panels in the stadium, but they can be seen from outside the stadium on the neighboring highways.
This brings the team's green efforts even further into the public eye.
Any stadium can easily install solar panels using boom and scissor lifts. A ring of solar LED panels top MetLife Stadium, home of the New York Giants and Jets. While it's not necessarily efficient, the teams made the effort to have these panels light up blue when the Giants are playing and green when it's the Jets.
Meanwhile, the Washington Redskins' FedEx Field is home to a 30-foot sculpture of "Solar Man," a football player made entirely from solar panels. It's efforts such as these that fans can get excited about, and excitement about green building in sports is key in moving toward expanding green building in other sectors.
Setting the Tone
Sports may not seem all that important when there are issues such as climate change that we need to address — but no one can deny they are a cultural phenomenon. People get passionate about sports, which is why teams' efforts to go green are a big deal.
Sports are a part of a huge business with a lot of influence on fans — 59 percent of Americans identify as sports fans. These fans take note of the efforts stadiums put in to reduce their environmental impact, and when they visit a green stadium, they get to see personally the innovations in clean energy production, water conservation, waste management and efficiency in action.
So far, of 126 pro teams in 5 major U.S. sports, 38 use renewable energy, 68 have energy efficiency programs, and virtually all have recycling/composting. Because of efforts of these teams, sports have become a unique platform for green building, green education, and green infrastructure advocacy.
*Original posted by Megan Ray Nichols – www.pollutionpollution.com/2016/04/stadiums-going-green-usa.html