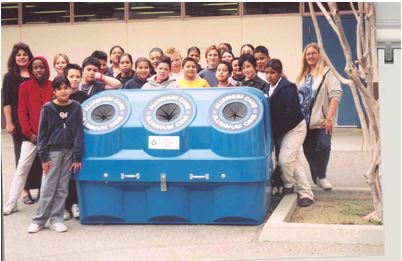 Waller Middle School is doing its part to use resources responsibly. A class of special needs students has facilitated a school-wide recycling program that has been disposing of the school's paper and aluminum can waste for years.
Andrew Wagner, one of the teachers who works on the project, said they use recycling bins to pick up recycling items from around the school.
"We throw newspapers in one and everything else in the other," he said. "We come back to the class and organize it: cardboard, papers. Some are confidential so we shred them. We bag it up and around 1:30 (p.m.) we have a wheelchair bus come by and we take it out to the recycle center."
The program has been going on for about 10 years, and has expanded from shredding paper products to include cans: they even have a can crusher that students can operate, and each classroom has a bin for recycling, which the program participants pick up every Friday.
Special education teacher Jeanny Gunning said her class always has done the recycling program.
"It gives them the opportunity to do jobs, learn those job skills, be on tasks for a certain amount of time," she said. "There are programs after they graduate from high school where they can use these same skills and have actual jobs."
Students and teachers roll recycling bins around to classrooms and sort through paper waste.
"If we get books, we have to tear them apart," Willson said; workbooks that teachers no longer use have to be torn up to fit into the shredder.
Willson said his favorite part of the program is helping Wagner collect recycling.
"It helps the city and the world," he said, dumping a stack of papers into the bin. "And the environment. That's what it does."
Waller Principal Adam Beauchamp said the program helps the environment, but it's also a great opportunity for the students to give back to their community.
"Any time we can give back to our school, our community, our earth as a whole," he said. "It provides a lot of value and a self-esteem and self-worth to our kids. It gives them an opportunity to interact throughout the school. That's been very beneficial."
For information on recycling containers for your school recycling program, contact Fibrex Group.
enidnews.com