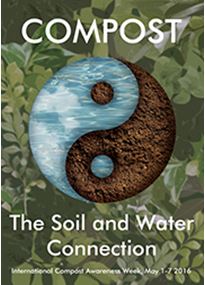 Yessi Budisari of West Indonesia has sensed growing concern for soil revitalization in the wake of a brush fire and smoke pollution disaster in her country, and designed the winning 2016 International Compost Awareness Week poster in response to the concerns.
The poster, which has been distributed nationally prior to the celebration of International Compost Awareness Week May 1-7, 2016, focuses on a water conservation theme of Compost: The Soil and Water Connection. The US Composting Council's Annual Competition received nearly 125 entries from all ages and across the world.
"My poster symbolizes the connection between soil and water: The Yin and Yang…. the two elements that are completely different but cannot live without each other," she said. "I described Yang with soil because soil is hard, dry and firm, and The Yin I described as water as water is fluid in motion. Together they can be a hero to our planet earth."
The International Compost Awareness Committee, a group of USCC members, chose this year's theme to bring attention to the role of compost in healthy soil to address growing drought and food insecurity issues across the world.
"Encouraging compost enthusiasts of all ages to think about compost in that context is an effective way to educate people about compost's ability to strengthen and enrich degraded soils," said Jeff Ziegenbein, chair of this year's International Compost Awareness Week Committee and project manager for Inland Empire Regional Composting Authority in California.
International Compost Awareness Week is an annual multi-media publicity and education campaign that showcases composting and compost products, from backyards to large-scale composting facilities. Sponsors of this year's campaign include: BioCycle Magazine, BioBag, Filtrexx International, Full Circle Organics, LLC, Rooflite, Natureworks, WeCare Organics, Reotemp Instruments, and Composting News.
The U.S. Composting Council is a national organization dedicated to the development, expansion and promotion of the composting industry. Established in 1990, the USCC achieves this mission by supporting and performing compost-related research, promoting best management practices, establishing standards, educating professionals and the public about the benefits of composting and using finished compost. USCC members include compost producers, marketers, equipment manufacturers, product suppliers, academic institutions, public agencies, nonprofit groups and consulting/engineering firms.
**Originally posted by www.compostingcouncil.org