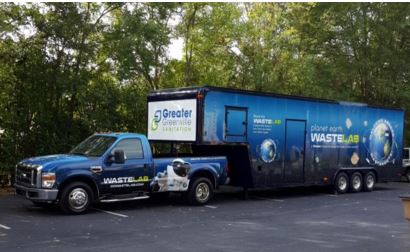 A waste management district in South Carolina hopes an innovative education approach will reduce contamination and boost recycling participation.
The Greater Greenville Sanitation District (GGSD) is currently putting the finishing touches on WasteLAB, a mobile education unit hauled by a truck. It incorporates games and other interactive features to teach students about recycling.
The idea was to replace a staff member standing in front of a classroom holding a recycling bin with interactive activities and touch-screen displays. Teachers were saying old methods weren't moving the needle, said Chuck LaGrange, public information and sustainability officer at GGSD.
"We want to catch up with the way they're learning and the ways they like to get information," LaGrange said. "That was kind of a paradigm shift for the way we wanted to start looking at our education model as a whole."
During its first year, the WasteLAB trailer will visit elementary schools, focusing on teaching fifth-grade students. It will also visit community events to get the word out about recycling and composting.
Construction on the trailer is expected to be complete this week. All told, it cost an estimated $100,000, LaGrange said.
The WasteLab's introduction comes as the GGSD, which has more than 55,000 residential and commercial customers, introduces 96-gallon carts starting in July. For households, ongoing recycling costs will be included in their utilities bill after they pay a one-time $25 fee. GGSD's current single-stream curbside collections utilize 18-gallon bins. About 9,000 households currently participate in the opt-in recycling program.
Officials will track how successful the WasteLAB is at prompting students to persuade their parents to sign up for recycling service after it visits different schools.
In the future, GGSD hopes to scale up WasteLab into apps or add more WasteLAB trailers to create a new regional or state model for recycling outreach, LaGrange said.
"We hope that it's the start of something really big," he said.
*By Jared Paben, Resource Recycling - March 1, 2016