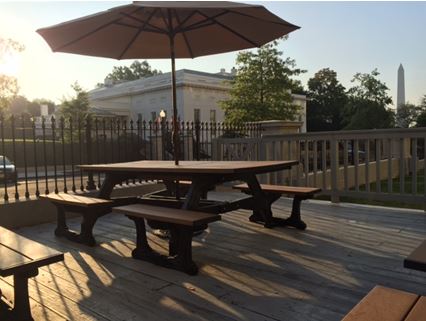 It was Earth Day 1993 when President Bill Clinton launched his ambitious "greening the White House" project. That effort saved more than $1.4 million in its first six years, largely from improvements in lighting, heating, air conditioning, insulation, water sprinklers and other measures.
During George W. Bush's two terms, workers installed three solar systems, including a thermal setup on the pool cabana that heats water for the pool and showers, and photovoltaic panels atop a maintenance shed that supplement the mansion's electrical supply. Bush also made a big push to recycle office paper, although the overall go-green effort lost momentum during his tenure, according to many outside observers.
President Barback Obama promised before he took office that he wanted to sit down with White House staff to evaluate what could be done to conserve energy in a 132-room behemoth of a mansion/office that leaves an EEE-sized carbon footprint.
The first-family took action to set an eco-example for the nation. First lady Michelle Obama planted and currently harvests an organic herb and vegetable garden on the South Lawn. The Obamas have installed an environmentally friendly wooden swing set for their children on the White House grounds. Cushioning underfoot is made from recycled rubber tires.
To aid in this effort, the GSA and the White House purchased Fibrex Group Envirodesign Heritage recycled plastic lumber picnic tables. Each of these picnic tables is made from 4,980 recycled plastic milk jugs. These durable and maintenance-free tables were placed in seating areas behind the White House for faculty and staff members to enjoy during their coffee, lunch or free time breaks. Envirodesign benches and picnic tables will never rot, crack or splinter and will stay beautiful for years to come.
Please send us a quote request or give us a ring at 1-800-346-4458.
~Original from Huff Post Green