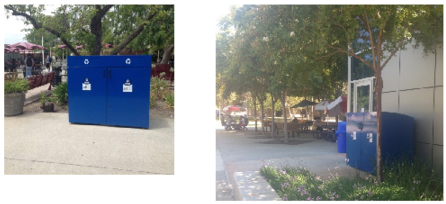 Bakersfield ARC (Area Recycling Council) in California is one of the first customers to purchase and utilize Fibrex's Revolve Recycler Units. Mike Grover, SVP/Chief Operating Officer of BARC was looking for a cohesive unit to house 95 gallons carts at multiple collection sites throughout the Bakersfield area. Fibrex's new unit fit the bill perfectly! Supported by a CalRecycle grant, the Revolve Recycler units transformed BARC's 95-gallon wheeled carts into an attractive and durable dual stream recycling and waste container. Revolve is an innovative housing for universal wheeled collection carts that fits a wide variety of cart designs.
Revolve cart housing is also available for 35 and 65 gallon carts. The Fibrex Group offers modular models for single, dual, or triple stream collection. Revolve is made out of rust resistant galvannealed steel and has no exposed fasteners. All units come with an architectural grade powder coated finish both inside and out. The powder coated finish is available is several standard colors and many more custom shades. Multi-color units are available as well.
BARC is the largest Service Provider in Kern County that offers employment and care for adults with intellectual and developmental disabilities. They offer the most comprehensive support for the intellectually and developmentally disabled and the communities in which they live. BARC currently employs more than 180 staff and more than 400 Clients earn wages while working at a BARC Activity Center, Customized Employment Development program, or in a Supported Employment setting. The revenue gained from BARC industries such as Recycling, The BARC Shoppe, Woodshop, Packaging and the new Material Recovery Facility (MRF) are reinvested in other Client activities such as advocacy, enrichment, socialization and family support in the Bakersfield community.
For more information about BARC please visit http://barc-inc.org