Fibrex Group, Inc. is pleased that Texas A&M's College of Architecture has chosen our new Mobius Flex recycling bins for inclusion on their campus!! The Flex is an affordable but stylish, high-end design for high traffic public areas. It is perfect for the most discriminate of locations. The Flex's innovative anti-scratch surface and rotational molded plastic body & lid make it extremely durable and user friendly. This dual stream receptacle is absolutely perfect for universities, schools, malls, hotels, convention centers, airports, military installations & office settings.

With approximately 1,900 students, the College of Architecture at Texas A&M University is one of the largest colleges of its kind in the United States, offering a comprehensive catalog of prominently ranked graduate and undergraduate programs in the design, planning, construction, land development and visualization professions.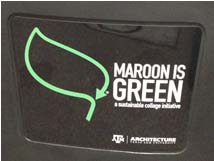 Offerings include four professional design and planning degrees, as well as doctorate programs in architecture and urban and regional planning. It also houses all Texas A&M University programs in the visual arts.

Together, the college's 120 faculty members, 40 staff members, 400 graduate students and 1,500 undergraduate students create an energetic environment for academic and professional success.

One of the premier design research institutions in the world, the Texas A&M College of Architecture strives to remain at the forefront of research, teaching, professional education and outreach associated with built and virtual environments.

The college is distinctive in that it offers a truly interdisciplinary curriculum, recognizing that no single professional track or narrow specialization can adequately prepare tomorrow's building and planning professionals. Because the college houses all of the built environment disciplines, it is uniquely suited for interdisciplinary collaboration.

Fibrex Group offers low factory direct pricing and a large variety of designs, sizes and custom models of recycling bins to fit today's wide range of recycling, composting & waste needs. Call us today at 1.800.346.4456 for more information or visit us on the web at www.fibrexgroup.com.