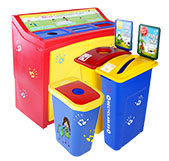 Fibrex Group has recently begun carrying the Kidz Collection recycling bins for schools/classrooms. These recycled content, kid friendly recycling units will get kids excited about recycling while in a day care, preschool or elementary school environment. With their eye-catching red, yellow & blue colors and fun graphics, administrators and faculty can get their students to participate in recycling in a classroom, cafeteria, or specialty station setting.
Products included in the Kidz Collection are the Slim Bin container in single, double & triple configurations, the Kidz ClearView 26 gallon receptacle, 7 & 10 gallon Station Sorters, the Dual Stream Recycler, and the Kidz Mini-Sorter 3-in-1 station. Please click here to see the variety of products.
What better way to get kids excited and teach them good recycling habits than at school? This is a wonderful way to show kids that by collecting plastic milk & soda bottles, that those items can be recycled into items such as playground equipment and site amenities for their outdoor areas whether they are home or at school.
For more information please contact Fibrex Group, visit www.fibrexgroup.com or call 1.800.346.4458. Work. Play. Recycle.