The Pennsylvania Horticultural Society in collaboration with Gary Radin Design, have chosen Fibrex Group's recycled plastic Envirodesign modern benches for inclusion in the 'Garden to Table Studio' at the 2014 annual Philadelphia Flower Show. Our benches will provide the seating for the audience while watching celebrity chefs during a lunchtime break-out session.
Each day the Flower Show guests will be invited to visit the 'Garden to Table Studio' sponsored by Organic Gardening magazine. Now located on the Flower Show floor, the studio will look and feel like a true chef's kitchen, where free half-hour cooking demonstration will be presented each day. The Philly Flower Show will be held March 1-9, 2014 at the Pennsylvania Convention Center.
Last year, Organic Gardening editor-in-chief Ethne Clarke, along with other members of the magazine's editorial staff, welcomed world-renowned chefs to the state, including Daniel Stern, chef and owner of Philadelphia's famed R2L and MidAtlantic restaurants, and Edward Lee, Organic Gardening's Simply Fresh Contributing Chef, acclaimed chef at Louisville's 610 Magnolia, "Iron Chef American" competitor, and James Bear finalist for Best Chef.
The exclusive design of the Envirodesign Modern recycled plastic bench is style simply stated. The slatted seating is striking in appearance providing cool seating comfort. Like all of our benches the Modern is designed to endure. The eight foot model is perfect for that area where additional seating is required. Like all of our envirodesign site furnishings the modern bench is made from 95% post consumer recycled plastic and made in the USA.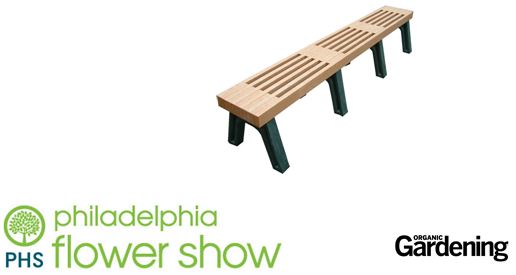 Work. Garden. Recycle.