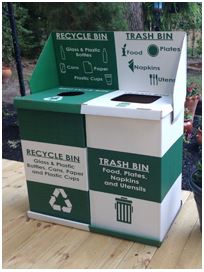 Some of the largest colleges and universities in the country will be battling at the recycling bin this fall.
The GameDay Recycling Challenge, an annual materials diversion competition, has opened up its registration process for the 2014 season. The concept asks each participating school to pick one, or more, of its football team's home games and to track how much material goes into recycling or compost receptacles at stadiums and tailgate areas.
Schools compete against their conference rivals in categories such as total amount diverted and recycling rate, and national winners are recognized at the end of the season.
Nearly 90 colleges and universities participated in the GameDay competition last year, an effort that led to 1.46 million pounds of material being diverted from landfill.
The competition is managed by CURC, the Environmental Protection Agency's Wastewise Program, Keep America Beautiful, and RecycleMania, Inc. Interested in registering? Click here.
Or check out www.fibrexgroup.com if you are looking for recycling collection containers, such as our Encore recycle boxes, for your school's participation in the GameDay Challenge! Work. Play. Recycle.
Source: resource-recycling.com/node/5181