The Bureau of Engraving & Printing (BEP) is utilizing the Fibrex Group's Mobius recycling stations in their Maryland offices for recycling collection. The Mobius Designer Series combines recycling and high-end design at an affordable price. This is one of Fibrex's most attractive units and is perfect for use in high profile areas such as airports, office buildings, schools and universities. The innovative Mobius recycling station comes standard with one, two, three or four compartments featuring molded drop-in openings for collecting bottles & cans, paper products and trash. Each compartment holds up to 25 gallons and is fitted with a rigid plastic liner. These new indoor recycling stations are available in an unlimited combination of colors and finishes, and are perfect for even the most discriminate of locations.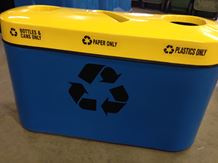 The Bureau of Engraving and Printing (@burofengburofen) had its foundations in 1862 with workers signing, separating, and trimming sheets of Demand Notes in the Treasury building. Gradually, more and more work, including engraving and printing, was entrusted to the organization. Within a few years, the BEP was producing Fractional Currency, revenue stamps, government obligations, and other security documents for many federal agencies. In 1877, the BEP became the sole producer of all United States currency. The addition of postage stamp production to its workload in 1894 established the BEP as the nation's security printer, responding to the needs of the U.S. Government in both times of peace and war. Today, the Bureau of Engraving and Printing no longer produces government obligations or postage stamps, but it still holds the honor of being the largest producer of Government security documents with production facilities in Washington, DC, and in Fort Worth, Texas.
Made in the USA since 1990, Fibrex Group's green-design products are made from sustainable resources and always contain the maximum possible recycled content. We offer very competitive factory direct pricing on our entire selection of eco-friendly design products which are built to last and covered by the best warranties in the industry.