Don't get boxed in when selecting trash & recycling systems for your school stadiums & tailgating events, dorm or apartment housing areas, corporate open space areas and military bases.
Try Fibrex Group's newest line of recycling & trash collection bins. Available in a dual stream recycling station or as individual boxes, schools, military bases and national companies will find these products useful. Our new system is a low maintenance, budget friendly solution for collection sites. It can be used anywhere from major stadium events to back yard functions - cafeterias to dorms - picnic areas to parks.
The Encore special event recycle bins have a unique convertible lid which will enable you to promote recycling and/or the proper disposal of trash in any setting. Complete with a multi-function lid, 55 gallon liner bags and FREE SHIPPING. Customization is available to advertise your corporate branding or sponsors information for increased visibility.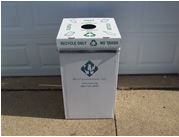 The Encore Dual Stream Recycler Box is a disposable trash & recycling container that includes a multi-function lid, base, back sign board, 2x 55 gallon liner bags & identification.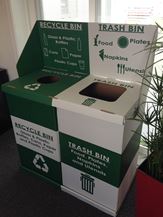 The containers are made from recycled paper. Using this system shows your commitment to being a 'GREEN' friendly school, company or organization. They flatten easily to store, and are re-usable and recyclable at the end of their life span.
There are no more bulky trash cans to sanitize, inventory, or deliver and pick up. These boxes will give you a fresh clean look every time. The same container may be used for trash or recycling with our unique convertible lids. Customization is available which will give you a great return on your investment and high visibility.
For more information contact the Fibrex Group at 1.800.346.4458 or www.fibrexgroup.com