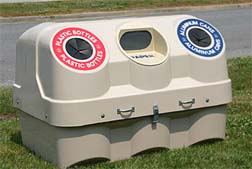 A month after Councilman Jason Dyken expressed concerns about the "atrocious" condition of the beach after the Fourth of July holiday, the city's Public Works Department is seeing some success with a pilot trash-sorting and recycling program.
The city has added two trash receptacles every 100 feet along its public beach -- one for regular garbage and the other for aluminum -- most beach-goers don't recycle and the majority of the city's coastline is lined with private condos and homes.
To combat the endless stream of trash, the Public Works Department implemented a pilot program last month with more frequent pickups covering a much larger area.
The city is working with beach service company employees who pick up trash around the beach. The city crews now pick up the additional trash and recycling containers and sort through it a block from the beach.
During peak beach traffic days, the crews collect 100 bags daily and have found that about 70% of the trash is recyclable.
In just over a three-week period, the city collected about 3,000 pounds of aluminum cans alone.
Jones said the project is still in its early stages but is producing some impressive results.
In addition to cans and plastic bottles, the city is also recycling tent frames and metal chairs that are often left abandoned along the beach after vacationers go home.
Hand said the sorting and recycling program has substantially reduced the amount of trash being hauled to the landfill.
Wise Recycling LLC, was so impressed with the amount of recyclables that it's letting the city use a 30-yard container for free.
The city gets $640 for each ton of aluminum that is recycled.
For more information on recycling programs and recycling containers for public beaches, parks and public green spaces, contact the Fibrex Group.
al.com