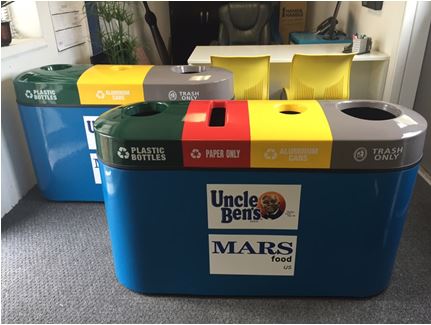 Mars Foods North America announced that its 10 manufacturing facilities across the U.S. are all certified landfill-free. The company created its waste goals in 2007 and set out to become zero waste by 2015. Mars also intends to eliminate the use of fossil fuels and greenhouse gas emissions from its direct operations by 2040.
The company highlighted three areas vital in achieving its goal: establish an efficient operating process, implement recycling programs for multiple waste streams, and create partnerships with haulers and agricultural re-use programs at a local level.
Mars has aimed to achieve LEED Gold certification for all its new major buildings since 2011, and so far 10 buildings have succeeded. Mars is also aiming for a future partnership with regional distribution centers and warehouses to continue improving their waste reduction policies.
Mars Foods has just purchased the Fibrex Group's Mobius DS3 & DS4 recycle bins for use in their facilities. The Mobius Designer Series combines recycling and high-end design at an affordable price. The innovative Mobius recycling station comes standard with one, two, three or four compartments featuring molded drop-in openings for collecting bottles & cans, paper products and trash. Each compartment holds up to 25 gallons and is fitted with a rigid plastic liner. These new indoor recycling stations are available in an unlimited combination of colors and finishes, and are perfect for even the most discriminate of locations.
*Some info provided by Waste Dive, Nicole Wrona