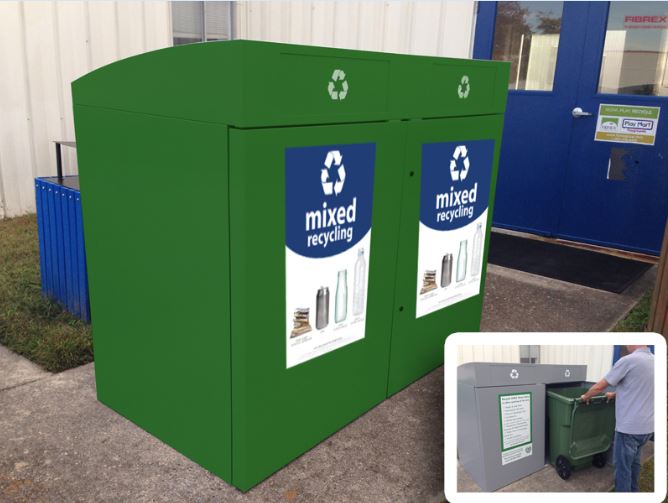 Curbside recycling can put additional collection trucks on the road. But the recycling process ultimately brings environmental benefits that far outweigh the extra vehicle emissions, according to a study from Waste Management.
The publicly traded hauling giant's research shows the greenhouse gas harm brought by extra routes needed for recycling collection pales in comparison to the environmental benefits materials recovery creates by offsetting manufacturers' need to use virgin resources.
"While many of us have heard reference to that in the past, actually seeing it was really stunning to us," Susan Robinson, federal public affairs director at Waste Management (WM), said on a recent webinar. WM's study aimed to quantify the financial costs and greenhouse gas reduction benefits of the company's various waste management strategies. Robinson and Rob Hallenbeck, a strategic analyst at WM, discussed the study during an Aug. 9 webcast presented by GreenBiz.
Comparing range of strategies
WM began with a theoretical baseline scenario assuming all collected material goes to landfill, with some degree of gas-recovery occurring. Then the model added in the following scenarios: improved gas-capture technology, residential single-stream recycling, commercial single-stream recycling, yard debris composting, food scraps composting/anaerobic digestion, materials recovery facility (MRF) residuals processing, and gasification of post-recycling residuals.
The company found some of the strategies were more expensive than others – that is, they required more dollars per million metric tons of greenhouse gas reduced. The best bang for the buck came from landfill gas recovery and residential and commercial recycling. Organics processing and other conversion technologies cost more per million metric tons of gas reduced.
Hallenbeck said a best-in-class recycling program – their model was based on systems in place in Portland, Ore. and Seattle – can produce an 84 percent reduction in greenhouse gases compared with the baseline scenario. Those greenhouse gas gains were tied to the fact recycling allows manufacturers to use recycled feedstock instead of virgin resources.
Focus on smaller pool of materials?
WM also explored the comparative benefits and costs of recycling different materials. The results showed the recycling of paper, metals and plastic bottles offer the most greenhouse gas benefits per dollar spent.
"[The numbers show] the logical order of materials to recycle based on economics and greenhouse gas reduction potential," Hallenbeck said.
Meanwhile, WM's analysis showed high cost and small greenhouse gas benefits in recycling glass. It also showed comparatively high costs for the greenhouse gas benefits of food scraps composting and anaerobic digestion. Robinson said the numbers underscore the need for upstream food waste reduction.
The study results bolster the argument the industry should focus on recycling a few materials with high environmental benefits, allowing MRFs to produce cleaner streams for manufacturing, Robinson said. She added the results can help WM and its customers start to think more holistically and not just chase weight-based goals. "It gives us a different lens for how we make decisions around recycling, let alone the rest of the stream," she said.
By Jared Paben, Resource Recycling - August 16, 2016