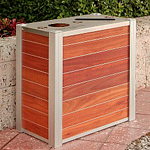 The Fibrex Group invites you to view the latest in green design recycling receptacles, site furnishings, and playground technologies at the National Facilities Management & Technology (NFMT) Conference and Expo. NFMT is the fastest growing conference and trade show of its kind in the nation.
The Fibrex Group will proudly display our industry leading products such as the Mobius and Eco Mod Designer Recycling receptacles (example at right), the environmentally friendly Play Mart Green Design Playgrounds, our latest "Solar Bollard" lighting systems, and more!
Please visit us at the NFMT event. We look forward to meeting you. Of course contact us anytime for more information.