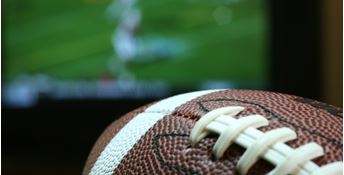 90% diversion rate, 155 tons of trash, $200K grant
The Super Bowl, with all of its hype and marketing and partying, has morphed into a massively resource-intensive, waste-generating landfill clogger, producing tons of leftover burgers, greasy cheese-coated plates, and peanut shells every year — not to mention building and decoration debris.
But the National Football League has been working to scale back its carbon footprint for 23 years, starting with one simple plan at Super Bowl XXVIII held in Atlanta. Since then, the sporting event's environmental initiative has recovered 155 tons of trash that otherwise would have ended up in a landfill.
Last year, Phoenix achieved a more than 80% waste diversion from trash generated during days of Super Bowl XLIX kick off events, according to the NFL. And it piloted a first ever-compost program at the stadium on Game Day, as hosting stadium MetLife in New Jersey did the previous year. As far as plans for Super Bowl 50 at Levi's Stadium in Santa Clara, CA, the NFL and Super Bowl Host Committee have been getting prepared for the past year.
Plans underway for Santa Clara game
What has spun out into an elaborate, well-orchestrated initiative draws support from Verizon, the host region's utility companies, transportation agencies, local food banks, Pepsi, and sports clothing retailer Under Armour, among other players.
Recalling the NFL's first stab at a greener Super Bowl — a recycling drop-off at the Georgia Dome — Jack Groh, NFL Environmental Program Director, said: "It was the first such project that we know about in any major sports facility in the United States. And it was at a time when the only environmental issues in front of the public were recycling and pollution. Things like global warming had not yet appeared in [mainstream] consciousness."
"We now have a comprehensive program that addresses ... sustainability and environmental impact, including solid waste diversion ... reuse and remanufacture ... [and] renewable energy to power event facilities," he said.
A large collaboration
Every year, the Super Bowl Host Committee, which includes local business and community leaders, collaborates with the NFL to carry on the Super Bowl green legacy, providing logistical and financial support. In addition to the committee, this year's backers are San Francisco's Bike Coalition, schools, Pacific Gas & Electric, the Emergency Transportation Authority, and three-year sponsor Verizon — to name a few.
Stakeholders are launching kick-off events to pump not only the game, but also the environment. Some are elbow-deep planting what will be 28,000 trees along San Francisco Bay's watershed, which provides the region's drinking water. There's also a coastal cleanup going on to pull trash from parks, wetlands, and storm drains to protect the San Francisco Bay and ocean.
"With more than 1 million Bay Area visitors expected, San José is preparing to be a major hub of activity," said San José Council Member Raul Peralez. "One of our objectives is to leverage Big Game opportunities such as the cleanup campaign to create lasting benefits for a cleaner, safer city. Our hope is that even after the game leaves, our residents and visitors will continue to see the benefits from the program for years to come."
Besides the planting and cleanup in full swing now, folks are collecting and sorting mounds of donated items to be distributed to low-income kids. A recycling rally opened to the public with a dedicated electronic waste drop off site. And fans are logging onto the Host Committee's website to make "net positive" pledges to offset their carbon footprint, which undoubtedly will climb on Game Day if they join the party. They will ultimately decide allocation of $200,000 from the Sustainable Environments Game Changer Grant.
Fast forward to game day
The masses will flood through the gates of Levi's Stadium; some who will come by ferry, some who will hail and share Uber rides. Some will buy Super Bowl 50-branded Clipper public transportation fare cards and board renewable energy-fueled buses from designated pick-up points. The most exuberant will pedal to the stadium and drop off their wheels at a bike valet.
Fans will be greeted by volunteers wearing uniforms of recycled materials, and they will line up at water filling stations, but they won't be filling single-use bottles they bought there; those have been nixed for the day. Game-goers can check out a dashboard display showing energy measurements, water and air monitors, among operational green features of the LEED gold-certified building.
Once the bleachers empty out, the work will continue. Prepared food will be shipped to soup kitchens and community centers, and there will be a week-long drive to collect and donate other Super Bowl leftovers, like building materials, décor, carpeting and signs. The recovered would-be trash will be reused, repurposed, or remanufactured.
To solid waste management professionals
Those dedicated to the NFL's environmental program have their work cut out for them, and look for support from waste experts.
"We like to work with contractors who not only integrate best practices but who look at innovative ways to address issues such as enhanced waste diversion," said Groh, citing a company called Sierra Waste.
"They worked with us on Super Bowl XLIX in Arizona on source separation. And they took advantage of innovative locally developed technology that processes and turns waste into concrete aggregate used for nonstructural purposes (like parking lot paving or pool pads.) This innovative approach helped us reach a 90-plus percent diversion rate."
By Arlene Karidis | February 5, 2016