If you recycle just two gallons of used oil it can generate enough electricity to run the average household for almost 24 hours!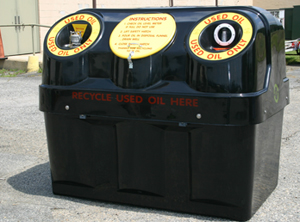 Cars are an indispensable fact of life for most of us. So, too, are abundant and clean supplies of drinking water. What we do with the used oil from our cars plays an important role in balancing our desire for convenient transportation with our desire for a clean and healthy environment today and for future generations.

We are all familiar with recycling newspapers, aluminum cans, glass and plastic bottles, but you may not be aware of the efforts to promote used motor oil recycling: providing convenient collection sites for the purpose of keeping used motor oil out of our waterways and ground water supplies and getting used oil into the recycling system.

Motor oil has value even after it has been drained from an engine. The oil you take to a collection center to be recycled saves energy. It can be reprocessed and used in furnaces for heat or in power plants to generate electricity for homes, schools, and businesses. It can also be sent to a refinery that specializes in processing used oil and re-refined into lubricating base oils that can be used to formulate engine oils.

Used motor oil that is collected by "do-it-yourselfers" is critical to the used oil recycling system. Collecting used oil from the Do-It-Yourself oil changers is easy with the Profile Oil Containers. Conveniently located used oil drop-off sites equipped with attractive and user-friendly tanks are an essential element for any successful used oil program. The Profile Oil Container is specially designed to accept used oil from the public. This attractive unit is very user friendly which improves program participation and aids in keeping the collection site clean.

The Profile Oil Container combines the unique feature of a steel inner tank surrounded by a rust resistant fiberglass secondary containment. Other features include a large disposal funnel, rain resistant lockable lid, level gauge, instruction decals and a 2" service coupling for pumping out the used oil.