The new stylish Mobius Flex is not only very attractive, but also extremely durable and user friendly. This 2 compartment receptacle is made from high quality rotational molded plastic and has an innovative anti-scratch surface. The Mobius Flex is perfect for collecting waste and recyclables in public spaces. Built to withstand the most demanding high traffic public areas and attractive enough for the most discriminate of locations. The generously sized drop-in openings give you the flexibility to collect a wide variety of recyclables, compostables and waste. Also perfect for the very popular single stream recycling programs, since the special recyclables opening will accept a wide variety of materials. The recyclables are collected inside with two rigid plastic liners that hold 25 gallons each.
This recycling container is perfect for schools, universities, airports, military installations & facilities, malls, apartments & condominiums, hotels, convention centers and office buildings. The Mobius Flex is an exclusive Fibrex Recycling Container product which was designed and manufactured by our team of experts. We can offer you the most competitive factory direct pricing, custom designs and excellent customer service. The Mobius Flex looks attractive, is very durable and is priced at $695 retail and $350 wholesale.
Fibrex Recycling Containers always contain the maximum amount of recycled content and are in use in over 3,000 communities, parks, educational facilities, corporate offices, military bases, retail establishments, multi-family housing, and the hospitality industry all over the United States and Canada. We offer low factory direct pricing and a large variety of designs, sizes and custom models to fit today's wide range of recycling, composting and waste needs. Providing attractive user friendly recycling receptacles in public places promotes good environmental stewardship while reducing waste and increasing recycling participation rates. Call us today at 1-800-346-4458 for more information or visit us on the web at www.fibrexgroup.com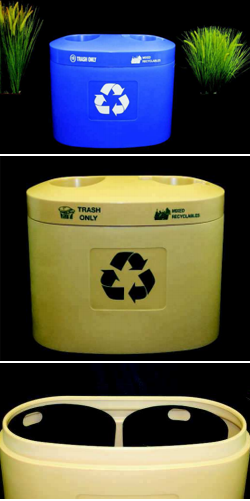 We currently offer several decorative colors but will be happy to custom produce the Flex TM in the color of your choice. The Mobius Flex has several molded-in graphics application areas making it very suitable for custom graphics. You can use our standard graphics and labeling or your own. We will apply your current logo designs or one of our excellent sales representatives will work closely with you to design your custom logos and recycling labeling. The Fibrex Group specializes in custom branded recycling containers and site furnishings. Your logo, your color, and your message can all be integrated into our products.